I've spent a long time thinking how I'd say this, but now that I find myself able to actually write the words I have absolutely no idea how to say it, so I just will…

I have a book coming out!!! An actual book of my poems is going to exist!!!

The lovely Sheila Wakefield at Red Squirrel Press is going to publish a pamphlet of my work in 2023…I can't wait. I mean, have you seen their books? They are beautifully produced things, and the ones I've read have been wonderful. I look forward to reading more of them. Oh yes, and the idea that I'll have someone like Gerry Cambridge designing and typesetting my poems is a bit of a dream come true.

There is no recorded footage of me receiving the news, so please make do with this fairly accurate recreation of the celebrations.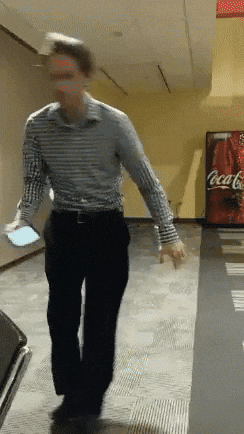 Looking forward, I plan to use this blog as a way of documenting the process of getting a book out. At present there isn't much to say other than that it will exist and that I am overjoyed to be joining the ranks of Red Squirrel Press poets. I wonder if they are they known as a Drey???

I suspect the poems I want to include now might not be the same in a year or two, or the title I have in mind now could be wildly different, but I have a line up of poems for it in my head now which I will write down in the next week or so to post here.

There are lots of people to thank, but for now all I will say is thank you to Matthew Stewart for suggesting I get in touch with RSP and to Sheila for getting back to me and saying yes.

Now, 2023 may sound like a long way off, but it really isn't. It gives me plenty of time for prevarication, panic and properly working to make it the best it possibly can be. And to read more RSP poets…

I've picked the wrong month to lay off the drink, but please join me in raising a glass of something.