Firstly, at the time of writing I am enthused by the news that Salman Rushdie is recovering after the brutal and awful attack he suffered in the last couple of days. Fingers crossed for a full recovery.


At the risk of crunching the gears…
Last night Rachael and I went to see the majestic Kamasi Washington play at The Troxy, and I'm not sure if the mixing desk was being warped by the heat or the temperature was just bending the sound, but something wasn't right. It could have been everyone in the building looking like they were on the cusp of evaporating, or the permanent beads of sweat decorating my top lip and forehead, but the sound was off. It was a shame as Kamasi and his band looked to be bang on form. I did get to hear him play his song Truth though, and that's one my favourite things in existence, so we'll call the night a score draw.
The big news of the week, and to my mind it's absolutely epic (NB a Kamasi Washington album is called The Epic, but that's by the by and is absolutely not me trying to hamfistedly force a connection out when there isn't one to be had) news, is that the latest issue of Bad Lilies has been published. And not only that, but issue 9 is called Feral Summers and features Kathryn Simmonds (who I note is Norwich-based), Jessica Mookherjee, Rebecca Watts, Taz Rahman (his work was new to me, but I love it, and note we were also bedfellows in Honest Ulsterman back in Feb), Lisa McCabe, Geraldine Clarkson, Erin O'Luanaigh, Chris Emery, Nikita Azad, Alex Jenkins, Gareth Prior and they've only gone and included me too. My poem, The Summer Job is sat in the middle of the issue, and so far be it from me to suggest it's the sun around which everything else orbits, but I'm also not not saying that.

I'm slowly working my way through the issue, and have read the first 4 poets so far. I'll update the rest as I go, but there really is so much to enjoy in each poet. I am aware I may be biased on the grounds of inclusion (And so what), and I may be over-sharing, but sod it, poets don't get enough praise and we're too reluctant to share it, so if I can add some more back into the ecosystem with a few relatively ephemeral tweets, then why not?

IN OTHER NEWS…

Earlier this week I read this article by Emma Lee about bad reviews, and the last few lines of the article stuck with me.

"Not liking a book is not a reason to not write a review. A reviewer can't be the target audience for every book published or even every book published in their favourite genre. But every reviewer can write about the book and give the review reader, who might be part of the target audience, enough information so they recognise the book is for them."

I think they stuck with me as pretty much on the same day a review I'd written of a book by Julia Duke was published over at London Grip. See below for a link. I am grateful to Mike for sending me the books and while I did enjoy parts of the book, it was one of the first times I've really struggled to write a positive review. Part of the reason is, I think, one of the elements I note in the review about potential dual standards, but some of it is, I will freely admit, that it just wasn't for me. I hope, however, that my review communicated what there was to enjoy at the same time as saying what I didn't like.
A couple of potential prompts/Things I enjoyed reading this week
Learning about the concept of Coyote Time.
I was made aware of Coyote Time via the Paddy Collins newsletter. Coyote time is essentially the amount of time a cartoon or video game character has after they run off a cliff. I'm sure you've all seen Roadrunner and his interactions with Wily E. Coyote, so you should know exactly what it all means. It seems to me like this has the potential to be the start of a great poem. Who knows, I may write it myself, but if not…here you go, start running with it.

It also felt pertinent in the week I got round to listening to the last episode of the current series of The Verb… It being the last one it was something of a games day. I'd recommend it as a listen.


Flo has been away for most of this week on an adventure week with a couple of friends, so while the kids were away, the parents went out for dinner. We went to our local tapas restaurant, El Molino, and had a lovely time…ON A TUESDAY.

And, I enjoyed reading this article a couple of days later about a photo of a distant star turning out to be faked, and actually just a slice of chorizo. I'd have taken some photos from our meal if I'd known.

Bonus art scam: Involves psychics and cursed artworks…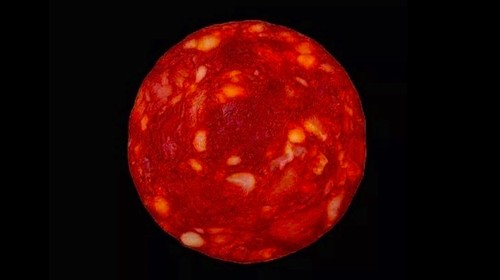 3. Finally, if, as a poet, you can't find something in the phrase "Blood from an old mouse" then it's time to hang up your writing implement of choice…Thanks to the journalist Andrew Male for spotting this.

It's also worth listening to Andrew discuss the work of Raymond Briggs (RIP) on a recent Backlisted Podcast.
Finally, a poem
I took delivery this week of the most recent issue of Under The Radar, as well as Ramona Herdman's latest book. I've been reading through it and enjoying it, and in honour of my friend Mark (out for dinner with us on Tuesday) telling me he was stung by a jellyfish (20 quid for a jar of honey, etc. Oh no, hang on, that's bees) on a recent holiday, so this poem by Emma Simon seems apt.

Organised Water
Emma Simon. Taken from Under The Radar #28: The Elements Issue

The mind is its own jellyfish
propelling itself somewhat waywardly

through its own element
thinking thoughts about thought.

A miracle really, how it holds
an impression of form —

does not dissolve, lose all sense
of its aqueous self to vastness

of oceans. But still flows
into the scoop of a net or bucket.

Pourable, yet distinct. Lit up
by the light of its luminescent ideas.

THE LAST TWO WEEKS IN STATS
4K running. A hot and busy week means the Post Covid recovery is taking its sweet time, but felt ok yesterday, minor knee twinges aside.
1 week of taking a hard look at myself
1 gig: Kamasi Washington
0ish (at least) journeys to dance lessons and back for Flo
0 rejections:
0 poems finished:
5 poems worked on: Spider That Bit Peter Parker, Unlimited Texts, Waking Up, New Mothers, Settling
1 poems published: Bad Lilies
0 submissions:
0 acceptances:
11 poems are currently out for submission.
78 Published poems
35 Poems* finished but unpublished
Twelvety poems* in various states of undress
554 Rejected poems* Eg I've decided they are not good enough
0 reviews finished:
1 review started
0 reviews submitted:
3 reviews to write: How the fuck did that happen…
3 days without cigarettes…I was doing so well..tried one on Thursday..Mistake.
1 Days since drinking. Had a beer yesterday and Tuesday
0 sleepless nights:
1 more week that I'm not having an affair with Eva Green

* To date, not this week. Christ!!

READ/SEEN/HEARD/ETC
Read
Daniel Sluman: single window
Khairani Barokka: Ultimatum Orangutan
Poetry London Summer 22
Richie McCaffery: Summer / Break

Zooms:
None
Music
Wrens: The Meadowlands
The Archers
Planet Poetry: Fiona Sampson
The Chills; Silver Bullets
Radio 3: The Essay Larkin & Believing: Absences (Sinead Morrissey)Larkin Revisited
Radio 3: The Essay Larkin & Believing: Going (Helen Mort)Water/Jean Sprackland
Radio 3: The Essay Larkin & Believing: The Mower (Raymond Antrobus)
Radio 3: The Essay Larkin & Believing: Water (Helen Mort)
Radio 3: The Essay Larkin & Believing: Going (Jean Sprackland)
Leo Kottke: Balance, Circle Round the Sun
Nina Anastasia: Riderless Horse
Johnny Winter: First Winter
Graham Parker & The Rumour: Howlin' Wind
Sam Prekop: The Republic
Eyelids: The Accidental Falls
The Bevis Frond: North Circular
Fadoul: Al Man Saib
Majid Soula: Chant Amazigh
VA: Habibi Funk Part 1 & 2
The Scorpions & Saif Abu Bakr: Jazz, Jazz, Jazz
Kamasi Washington: Heaven & Earth, Harmony of Difference
Arsenal Vs Leicester
The The: Soul Mining
Mary Lattimore: Silver Ladders
Maggie Rogers: Surrender
North Americans: Roped In

Watched
Annika
The Good Wife
Return To Larkinland
Only Murders In The Building

Ordered
Replacement parts for the boot of my car
Arrived
Angela Kirby: Where The Dead Walk (To Review)
A mystery parcel from Penned In The Margins that I haven't ordered
Raceme #13