Oh bloody hell, it's been 10 days now since this event – the event of the century as far as I'm concerned.
And what a night it was: we had a line up to knock any line-up bandy. There was another poetry event on in town that night; I hope it was as good as ours.
I was nervous ahead of things – the thought of performing in-front of other poets is fine, but knowing my work colleagues and friends were coming along too made it seem weirder somehow. It certainly had an impact on what I chose to read – more monologue stuff/less personal stuff.
I will knock that out of myself in future. The urge to read slushy love poems to Rachael while she was in the audience was conquered; largely because she would have pelted me with rotten spuds during the performance if I had.
Our brilliant line up started with Fiona Moore – she read loads from her excellent Distal Point collection and I think was a touch disappointed no one got the riddle in her poem, Dark Car.
Kathryn Gray then read an oldie, a few from her pamphlet, Flowers, and we were treated to new poems from a new collection. I can't wait to see where that comes out and when it comes out based on what we heard.
Kath was followed by an Open Mic slot from the brilliant Robin Vaughn-Williams and Angelina Demaria. Robin read us a few new poems, but treated us to one from The Manager.
Then the moment came, and it was me being introduced by Matthew. He said some lovely things. It all kind of went in a blur, but I really enjoyed the reading. I noticed as I stood up all the poems were about really stubborn people – I sense a theme developing here. And also, I notice I have a two-tone head.
The whistle blew for half-time and over oranges and iso-tonic refreshments* I had the chance to catch up with an old mate that had travelled up from Canterbury, some work colleagues – erstwhile and current and also I think I spoke to Rachael.
We then had Xaviera Ringeling as our third open mic slot. She gave us the rare treat of live translation from her native Spanish into English. And definitely upped the ante on poets reading from phones – She had the whole laptop there.
This brought us to Jess – Jess read solely from Flood and what a reading it was. I didn't know the poems beforehand – I bought my copy after the reading, but I was captivated and almost forgot to stand up and intro Matthew to bring us to a close.
Matthew did exactly that, after some rambling and thank yous from me. He read clearly, calmly, intelligently and in between breaking hearts he made us all thirsty and hungry, and more appreciative of white goods sales in Spain. He stuck to material from Knives of Villalejo, but why wouldn't you – it's an excellent collection.
After that and some closing remarks— I totally missed my chance to thank the dumb waiter for heckling through a few performances – it was time for people to either rush off or lean into the boozing. Everyone did what they had to do with aplomb.
Lessons from the night include pushing book sales more, more promotion, bring a box to put the money in and make more time for poets. Maybe fewer open mics, but I'm not sure. Oh yeah, and take more pictures and get some video footage.
The main thing is that a) we had a wonderful bill of poets b) new folks were introduced to poetry readings — too often it's poets reading to poets and it rarely gets beyond that — c) we raised £321 (hence the Dusty Bin in the title) quid for The Trussell Trust, including £97 on the night. Don't forget, you can still donate here
Rounds of applause all round, I think, especially to everyone that came, but also our wonderful poets. I want to do this again, soon.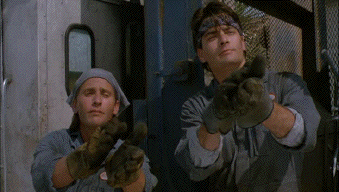 The view from the stage
* A crafty fag and a pint of Pale Ale